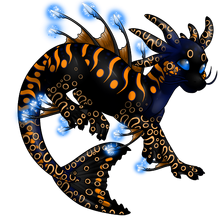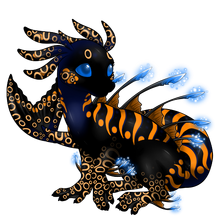 Sylvorpas, whose ancient ancestors hailed from the sea, have only been seen living on land for the past few centuries. Due to their aquatic nature, they are only seen in regions with plenty of water. Sylvorpas are nocturnal creatures, therefore they only appear in the wild during nighttime. Additionally, they only appear if it is raining, snowing, or storming.
Base Stats
Edit
Health: 105
Mana: 80
Strength: 11
Intelligence: 11
Dexterity: 11
Agility: 11
Sylvorpas are very docile creatures and rarely show acts of aggression. Their intelligence also rivals that of the Aurleon species. Due to their passive and calm nature, they strictly live off of a diet of plants and insects. Because they pose no threat, they are the most studied and understood Sylesti.
As with all non-fabled species, female Sylvorpas require 3 days to recover after producing an egg, and the eggs, as with all eggs, hatch within 2-3 days depending on how much they are nurtured.
Physical Features
Edit
Sylvorpas have a very sleek body structure which allows them to effortlessly swim long distances. Since their bodies have no hair or fur, they must rely on a thick layer of fat under their skin to keep warm. Sylvorpas also have large luminescent eyes which enable them to see perfectly in the dark.
Sylvorpas also have various defense mechanisms. Some have additional fins that flare up to intimidate enemies while others have special markings on their skin to secrete poison. Additionally, some Sylvorpas have wings which either act as fins when underwater or enable them to glide short distances when on land.
Average Height: 3'1 (0.94m)
Average Weight: 210lbs (95kg)
Design Colors are shown in Green. Pictures taken from Generator.

Gene Design Slots

 

Edit

Mutation Design Slots

Edit